In today's world, technology plays a key role in design and architecture, and audio-visual (AV) design is no exception. For a successful outcome of a project, effective collaboration between AV design teams and clients is essential. The growth of Building Information Modelling (BIM) services has streamlined this collaboration even further. This blog provides tips for flawless collaboration with clients in design and architecture, specifically for AV design solutions that include BIM services.
What are BIM services?
AV BIM (Building Information Modelling) services are digital tools that help design teams create, manage, and analyze building information. It is a procedure that involves creating and managing information throughout the building's lifecycle, from its conceptualization to demolition.
The three aspects of BIM:
Realistic Designs: BIM services provide the design team with a 3D model that allows them to create more accurate and realistic designs. It allows the client to understand the outcome better before construction begins.
Better Collaboration: BIM services allow for better collaboration between the design team and the client. The client can provide feedback on the design in real time, and the design team can make changes accordingly. It leads to a more efficient design process and a final product that meets the client's unique needs.
Freedom from Errors: BIM services provide a platform for the design team to identify and rectify errors before any construction work begins. It lowers the risk of costly mistakes and makes sure that the end product meets the required standards.
BIM design teams for AV
For efficient collaboration with clients, AV project design teams must use BIM services. The integration of AV technology into building design demands a collaborative approach between the AV design team and other disciplines, including architecture and engineering.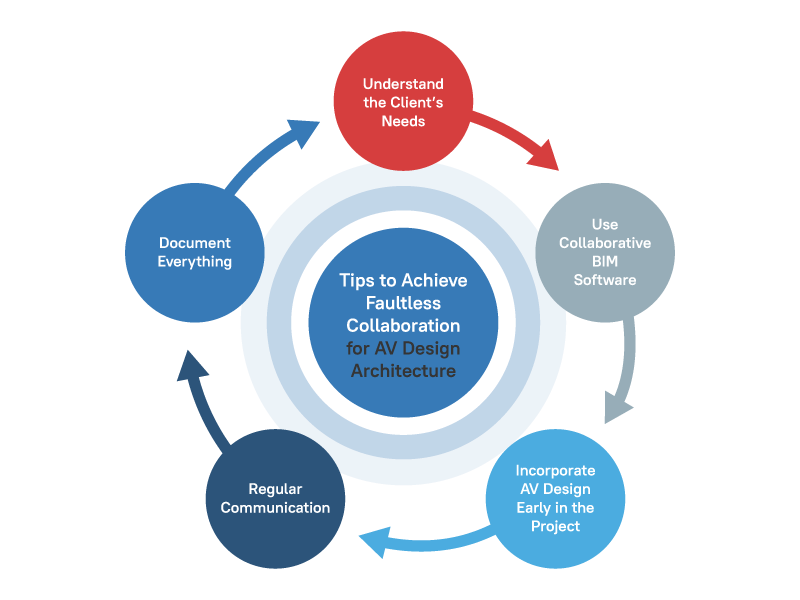 Tips to ensure flawless collaboration with your design and architecture clients for AV using BIM services:
Understand the client's needs: It is essential to understand the client's AV requirements from the beginning of the project. It includes their expectations, preferences, and limitations. It will help ensure that the final product meets the client's needs.
Use collaborative BIM software: Collaborative BIM software like Autodesk's Revit, Plannerly, and Revizto provides a centralized platform for sharing project files and enabling real-time feedback and design changes. It will help ensure that all design disciplines, including AV design, are seamlessly integrated into the building's design.
Incorporate AV design early in the project: An AV design should be incorporated early to ensure it is integrated into the building's design seamlessly. It will help avoid costly changes and rework in the later stages of the project.
Regular communication: Regular communication with the client and other design disciplines is crucial for a successful collaboration. It helps keep everyone informed and updated on the project's progress, any changes, or potential issues.
Document everything: Documenting everything, including all communications, design changes, and feedback, is essential for a successful collaboration. By doing this, you can ensure that everyone is on the same page and clearly understands what has been agreed upon.
Conclusion
BIM services are crucial for seamless collaboration between AV design teams and clients. To ensure a successful project outcome, AV design teams should understand clients' needs, use collaborative BIM software, incorporate AV design early in the project, communicate regularly, and document everything. AV design teams can thereby ensure strong collaboration with their clients and achieve a successful project outcome.
What's Next?