Through the months of the COVID-19 pandemic, AV technology has helped to ensure efficient contactless collaboration across industries. Businesses that were equipped with some amount of technological capabilities more easily responded to remote working. According to one report, in about eight weeks, we have advanced five years in consumer and business digital adoption. Banks have moved to remote sales and service teams, grocery stores shifted to online ordering and deliveries, and educational institutes transitioned to online learning and digital classrooms.
There are considerations for crisis management apart from tech-readiness. In April of 2020, a Gartner study of 229 HR leaders revealed that nearly 50% of organizations reported 81% or more of their employees are working remotely during the pandemic. The survey also showed that many workers plan to work remotely more often in the future. For AV businesses, social-distancing requirements have revealed an increased scope of work. Customer-facing businesses, including retail and digital displays, improved audio-visual functionalities and other contactless communication to ensure that consumers do not feel the lack of human touch or attention.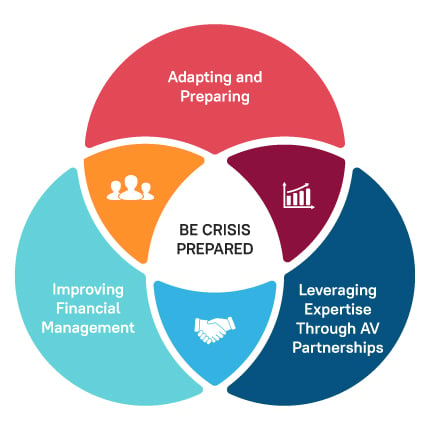 1. Adapting and preparing
Most people, when envisioning remote working, think of the availability and reliability of digital networks. Businesses invested in some amount of digital capabilities were able to collaborate and interact with different stakeholders, including customers and employees, once the pandemic shut down in-person contact. Adaptability and preparedness are intrinsic to crisis management. This includes the flexibility to store and access important data and information in the cloud, which enables remote access as well. Businesses that possessed AV capabilities or embraced communication technology, including AV technology, were able to transition to remote collaboration arrangements better. According to this report, investment in digital initiatives correlates with high value creation.
2. Improving financial management
Small and mid-size businesses don't typically have more than two weeks of cash reserves. This can be inadequate when in a crisis. A study by J.P. Morgan Chase & Co. says that in the typical community, 29% of small businesses were unprofitable while 47% percent had available cash for two weeks.
It is vital for small and mid-sized businesses to efficiently manage cash reserves and maintain well-managed cash flows. This is true for AV businesses as well, both startups or recovering ones that are engaged in producing AV solutions for their clients. Outsourcing critical back-end tasks like bookkeeping and accounting can help maintain cash flow by tracking payments due and overdue invoices and performing other tasks.
3. Leveraging expertise through AV partnerships
Given that AV technology has become critical to collaboration, shopping, working, and entertaining, AV businesses can explore newer services and revenue streams, including custom solutions for unique consumer demands. Embracing new possibilities and change is vital to effective crisis management and to ensuring business sustainability. There is also a great need for AV businesses to work with other industries to provide comprehensive and proven solutions. An AV partnership can prove to be a hassle-free and reliable way in which emerging AV businesses can continue to deliver high-quality work to their consumers. An AV partner provides the proven infrastructure and expertise, while the emerging business can leverage and extend this advantage to their own clients in the form of high quality, timely service deliveries.
Bringing it all together
Selective adaptation of technology is vital to ensure optimal benefits and little overhead. For an AV business, the first step to crisis preparedness and management is to identify the processes and capabilities needed and the challenges that may occur.
AV partnerships are an effective way to identify AV design and CAD solutions while providing benefits from proven resources, expertise, and the latest trends and technology, without overspending. An AV partnership can help emerging businesses leverage the partner's current infrastructure and proven expertise to take on select, specific workload instead of losing out on the business as a result of inadequate resources. This helps reinforce the relationship between the business and their clients and also add enormous value through high-caliber work. Furthermore, an AV partnership can help businesses also explore newer offerings by leveraging the partner's expertise.  
Next steps