Small businesses offering AV services may face challenges such as ensuring they possess the correct and most relevant solution for a particular event or client requirement. Given the current environment brought on by COVID-19, client needs are dynamic and may even pivot. Small businesses that are faced with financial and resource challenges may find it difficult to meet these requirements on their own. AV partnerships, on the other hand, can provide these businesses with just the right help to ensure survival, increasing the prospects of thriving as well.
1. Access wider expertise; bridge gaps
Partnerships provide businesses with resources to meet diverse requirements. Whether it is support for AV CAD and engineering services or other technical needs such as format changes and back-ups, a partnership can bridge gaps in resources without requiring immediate and expensive investments towards in-house set-up.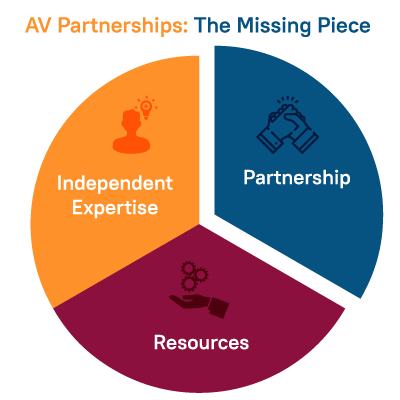 2. Business growth; cost savings
Regular updates and upgrades are important for businesses to ensure client needs are consistently met. In-house investments, however, can be very costly for startups and small businesses grappling with sustainability in the current landscape. The benefit of a partnership provides better opportunities for business growth. Businesses can tap into proven expertise provided by partners. This can help to grow the business, extend AV engineering or CAD services provided previously, and help pursue new business opportunities as well. Thus, a partnership provides the business with free time to actively pursue new business opportunities, while ensuring existing commitments are not disrupted.
3. Adapt, pivot, and grow
An AV partnership can support a small business with the resources and support, including critical emotional assistance to pivot, if needed. Businesses may need to be ready to change; the restaurant industry, for example, shifted to online ordering, outdoor dining, delivery, and digital communication. Contactless transactions have also led to businesses paying more attention to investing in technology that can support retailer operations, according to a report by Harvard Business Review.
Partnering for profitability
A judicious partnership can help businesses function more effectively, efficiently, and strategically for growth. Partnerships can empower businesses by not just bridging gaps, but by actively providing missing links when it comes to service delivery or product and service options. Choosing the right partner is vital; aligning goals is the only way businesses can harness the true benefits of partnership.
Next Steps: