Startup and small AV companies have played an important role since the start of the COVID-19 pandemic. The need for contactless communication and seamless meetings ensured that demand for AV technology, backed by reliable IT support, remained in focus.
Adoption of digitization and newer opportunities
A McKinsey study surveying the speed of digitization over the past three years revealed that global acceleration stood at 36% in December 2019 and climbed to 58% by July 2020. Prior to 2019, the figures were steady at 20% each year for both 2017 and 2018. In North America alone, adoption acceleration was at 65% for July 2020.
AV technology is a big part of communication that involves real-time interactions, virtual events, and even digital signage for the retail industry.
For any business that has weathered a crisis and managed to stay afloat, it can be difficult to raise the high volume of capital needed to scale up and meet changed market demand in real time. Because rapid scaling-up to meet market demands can require both, current infrastructure and skilled manpower; outsourcing companies which can help. An outsourcing partner can bridge the gap between resource and execution for AV businesses, without losing out on time needed to scale up. Outsourcing companies have a reliable and ready support infrastructure that can function as an extension to the AVD business. By utilizing this extension, AV businesses fulfill existing customer needs while also gaining time to pursue new business and revenue opportunities, all at a cost-effective rate. AV CAD outsourcing companies provide professional support for a smaller investment than what it would cost to create a similar infrastructure in-house.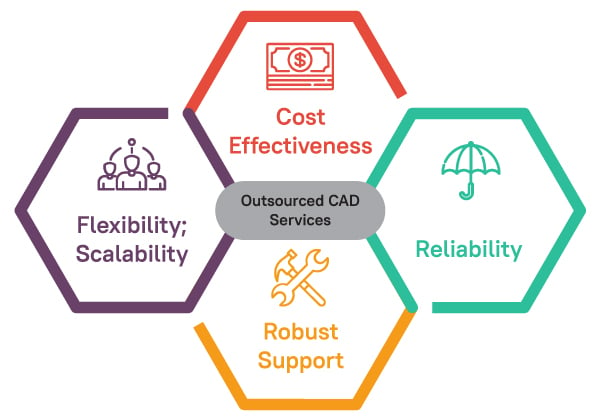 Key considerations in choosing the right outsourcing partner
1. Assessing the support level
Businesses providing AV services must assess their client-base and outline the optimal kind of help needed from outsourcing companies. Selective outsourcing — such as critical back-end support— can go a long way in providing clients with robust deliverables, while allowing the business time to determine the extent of assistance required.
Look for providers of professional AV CAD outsourcing who provide reliable support in terms of infrastructure and expertise. Outsourcing partners can also help with identifying the extent of assistance needed, further saving the business time and money.
2. Defining and outlining actual support to be provided
A reliable provider of AV CAD outsourcing services can help pinpoint the service scope, timelines needed, and actual execution. For example, reliable sharing of information and execution of assignment, storage, and management can be handled by professional AV CAD outsourcing companies to provide the business with a high degree of accuracy.
3. Defining service requirements and compliance levels
To avoid ambiguity, businesses and outsourcing service providers must set expectations and clearly define service terms. Ideally, for startup and small AV businesses looking at sustainable solutions during the COVID-19 pandemic, savings of time, effort, and money is critical. It is easier to document expectations and the scope of service with the help of the outsourcing partner. The outsourcing partner can help identify the extent of assistance required and customize a service plan based on the requirements of the business.
Look for a partner who provides AV support services with a strong emphasis on documentation and record-keeping.
4. Providing flexibility and adaptability
Choose an outsourcing provider that can keep pace with the growth of the business, including a flexible scope of work which allows the business to scale up or scale back services as needed. Request to see plans and to discuss services provided, including partnership methods. It is important to ensure you team up with the right outsourced provider that can stay with you through long-term growth.
Ideally, the aim of outsourcing assistance should be to guide your CAD operations to sustainability, while allowing you the freedom to focus on more important tasks, safe in the knowledge that AV work is managed reliably.
Next Steps