In today's world, businesses have the potential to harness state-of-the-art technology designed to allow professionals to execute specific tasks right from their comfort zone. For example, multimedia files can be shared securely by using tools like Dropbox, Google Drive, and Microsoft One Drive, all of which allow a team to make live changes without worrying about data loss. This advancement allows engineers and collaborators to work on a reliable and secure platform.
With the latest tech solutions like cloud computing, artificial intelligence, and Internet of Things (IoT) devices, you can create a secure room for a remote team to work effectively with peers and clients. These innovations help make business operations smoother, thus allowing business processes to improve.
Modern AV Solutions and Communication
Contemporary audiovisual (AV) solutions help make communication interactive, practical, and attractive for in-house and remote teams. By leveraging the latest AV technology, you can present critical information in-depth and without obstacles.
The effectiveness of AV technology allows businesses to grow faster and increase revenue while preserving the investments they make in hardware and infrastructure. These latest innovations and technology help improve productivity and save time.
Moreover, it has become less cost-effective for organizations and small and medium-sized businesses to integrate the latest solutions. To facilitate this integration process and allow these companies to grow in the competitive market, AV as a service can help your business leverage the newest AV products and services.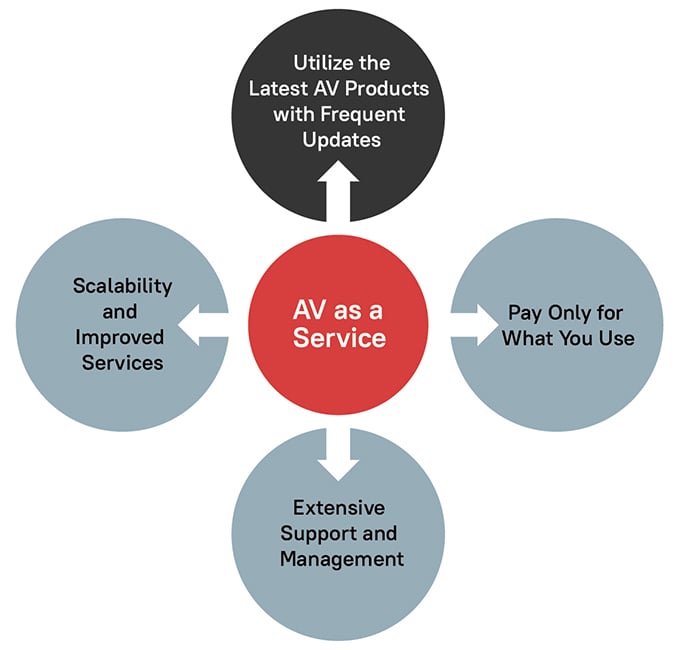 How AV as a Service Helps
AV as a service allows you to subscribe to AV products and create drafts to execute projects. And the convenient part is you only pay for this service as you use it. You do not pay full price for the equipment here, and there is no need to block access to your funds. In addition, you don't have to worry about upgrading, installation, or the management aspect of a project. AV service providers ensure that you receive uninterrupted services so that you can communicate effectively with them throughout the entire duration of a project. They provide all the necessary equipment and prepare and utilize it accurately to avoid disturbances during presentations. Some of the benefits of AV as a service include:
1. Utilize the Latest AV Products with Frequent Updates
AV service providers ensure that their clients get the best of everything based on business requirements so they can focus on growing their business. You get all the benefits at the price of a subscription.
2. Pay Only for What You Use
With the service-based provider business model, you do not have to pay the total rental price. You are only required to pay for the equipment when you use it. For example, you do not have to pay for a projector when it is turned off.
3. Extensive Support and Management
Configuration of AV technology is tedious and requires dedicated resources and expertise to ensure all communication channels are secure and working precisely. AV outsourcing service providers offer you an experienced team dedicated to helping your internal team focus on lucrative tasks. You will get full-time assistance with managing your AV services so that the quality of your projects is optimal.
4. Scalability and Improved Services
Subscriptions are customizable and allow you to manage the use of AV products and solutions. You will receive quality support and solutions designed to address your needs. You can always unsubscribe or add more equipment if needed.
Conclusion
Companies like Analytix offer outsourcing solutions and strategic partnerships to AV integrators, AV consultants, and AV manufacturers. We provide an end-to-end solution like staffing, CAD, BIM, engineering, and programming expertise, including financial management, IT support, and maintenance.
We offer drafting, drawing, modeling, and consultation services to execute AV projects. Our accurate, precise, and extensive AV engineering solutions can be combined with all the other accommodations of the conference or living room from which you deliver presentations.
Our dedicated resource teams follow a strategic process to execute each project correctly. We always ensure that all your requirements are added to the task so that we can properly and fully meet your end-to-end business needs. To learn more about our comprehensive services, visit https://www.analytixav.com/.
Next Steps
Hire dedicated resources to execute your AV engineering and drafting tasks.
Please email us at sales@analytix.com or call us at 781.503.9002 today.
Please read our blog on industry trends and the latest updates.