Digital signal processors and control programming are prerequisites to the optimal performance of systems that use audiovisual (AV) communication technology. Skilled expertise is required to ensure the optimal programming of these systems. Moreover, as communication and collaboration are quickly becoming remote, businesses need to ensure their AV communication systems are supported and maintained by reliable experts throughout all stages, from deployment to operations, troubleshooting, and repair.
The Significance of Control Systems
If your business is an AV integrator or consultant business or you offer dedicated AV engineering services, robust control processor programming is likely high on the expectation list.
For any system that brings together communication devices, it is critical to ensure they function as a single system, eventually resulting in a better customer experience. Robust and bug-free programming of the control system is important for seamless and interruption-free communication.
Why Your AV Business Needs Robust Programming Expertise
There are many types of control systems. However, each one requires specific knowledge for the programming to be effective. A near-perfect end-user experience can only result from robust audiovisual programming commissioning and support. Regardless of audiovisual installations in work premises or residential premises, programming is essential for a positive end-user experience.
Uninterrupted audio, unbroken video, and minimal to zero interference from other aligned devices can help create memorable experiences. Robust control system programming can help ensure AV businesses deliver solutions that are consistent with seamless delivery at all times.
The Need for Professional Expertise
An AV control processor programming system must be programmed correctly for optimized performance. Here are some reasons why professional expertise matters when it comes to control system programming: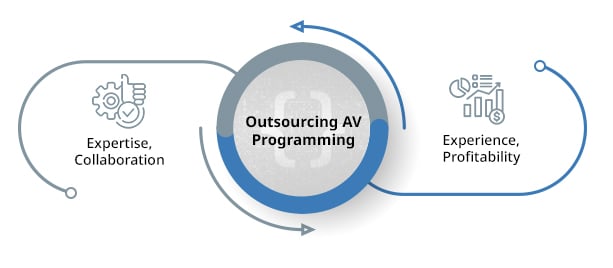 Control Systems Programming is a Critical Process
Any system that can be programmed requires control processor programming.
For AV systems to function optimally and in perfect synchronization, robust control system programming is essential.
Control processor programming brings together hardware components with software to ensure smooth functioning of the system installed. The AV control system requires an understanding of professional programming to ensure connected audiovisual systems are performing optimally.
Expertise assistance, such as outsourcing partnerships with AV professionals, can help AV integrator or AV consultant businesses ensure they deliver the best audiovisual experience. Certified programming expertise from all the leading OEM in the AV industry. for example Crestron, QSC, Extron, Bimap, AMX etc, can help your business deliver memorable and perfect audiovisual experiences to your clients. But programmers need to be highly trained, And analytix offer training industry programmers. Businesses must therefore outsource services characterized by certified expertise to ensure optimal control processor programming in such cases.
Control Systems Programming Needs Reliable AV Support Systems
An outsourcing partner with robust and proven expertise in different aspects of AV engineering, programming, and integration can help businesses put into place reliable and, more importantly, relevant software programs.
AV programming knowledge can be very device and brand-specific. Therefore, AV professionals need expertise in programming for various brands, such as Crestron, QSC, Extron, Bimap, AMX etc Lto ensure optimal performances.
As a result, when choosing assistance, businesses must be assured of a high support quality to receive a measurable return on investment.
Why Choose Professional Outsourced AV Assistance?
Audiovisual Equipment are expensive. When incorrectly programmed, they can often lead to errors that prove very costly to repair. When faced with the initial costs of OEM, these can lead to businesses suffering losses in terms of expenses incurred for hardware and software. Outsourcing AV assistance can help businesses mitigate this risk. There are multiple reasons for this:
Outsourcing agencies are staffed by professionals. This provides AV engineering, consultants, or integrator businesses with a reliable resource to ensure they continue providing value to their clients without interruption.
Outsourced partners also possess design and AV integration specialists, which allow them to provide robust and world-class collaboration and help AV businesses guarantee a flawless experience for their clients.
Outsourced AV solutions bring vast experience and resources, which can help ensure fewer errors and help save up on costs and efforts.
Trained and experienced outsourcing experts provide the much-needed human touch to business AV requirements, regardless of volume. This ensures an additional layer of quality to ensure a high-caliber output even in the case of high-volume, low-margin AV work.
Next steps