Crestron is a global leader in home automation, commercial automation, and audio-visual solutions. Crestron programming allows users to manage and control their devices through an intuitive and user-friendly interface. It is critical to ensure that audio visual systems operate seamlessly. In this blog, we'll discuss how Crestron programming is essential and why you should Outsource Crestron Programming to experienced professionals.
Why Crestron Programming?
Crestron programming helps users to control their audiovisual systems with ease. It offers several benefits, including:
Convenience: Crestron programming allows users to control multiple devices in their home or office with a single device. For example, you can use your smartphone or tablet to control your lighting, HVAC, audio-visual equipment, and other devices.
Customization: Crestron programming offers endless possibilities for customization. Users can create personalized control interfaces tailored to their unique needs and preferences.
Efficiency: Crestron programming can automate routine tasks and streamline operations. For example, you can program your automation system to turn off all lights and shut down all equipment when you leave the office.
Energy Savings: Crestron programming can help you save energy and reduce utility costs. By automating your lighting and HVAC systems, you can ensure they are only used when necessary.
How to Ensure Flawless Crestron Programming?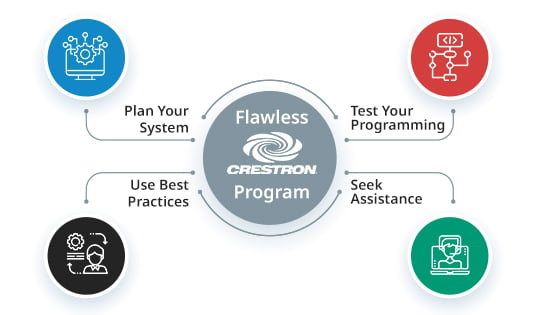 Crestron programming is critical for the smooth operation of your automation system. Here are some tips to ensure flawless Crestron programming:
Plan Your System: Before you begin programming, it's important to have a clear understanding of your automation system's requirements. Be sure to plan the layout of your devices, the interfaces you'll need, and the automation tasks you want to accomplish beforehand.
Use Best Practices: Follow best practices when programming your automation system. Use clear and concise naming conventions, organize your code logically, and document your work thoroughly.
Test Your Programming: Test your programming thoroughly to ensure it works as intended. Use debugging tools to identify and resolve any issues that arise.
Seek Assistance: If you're not confident in your programming abilities, it's best to seek assistance from a professional. An experienced professional can help you design and program your automation system to meet your business's needs.
Outsourcing your Crestron programming can help you get the desired results. Read below to learn more!
Benefits of Outsourcing Creston Programming Professionals.
Expertise –Professional Crestron programmers have extensive experience and expertise in designing and programming automation systems.
Time Savings – By outsourcing your programming, you can save a significant amount of time and resources. You can focus on other elements of your business while the experts handle your programming needs.
Cost Savings – Outsourcing your programming can save you money in the long run. Professional programmers can efficiently design and program your system, thereby reducing utility costs.
Peace of Mind – Thanks to expert programmers, you can rest assured that your automation system will operate flawlessly. You won't ever have to worry about technical issues or downtime.
To Sum Up
Crestron programming is essential to achieving the smooth operation of your audio visual system. It offers convenience, customization, efficiency, and energy savings. Planning your system, using best practices, program testing, and seeking assistance is essential to ensure an adequate solution. Outsourcing your programming can help you achieve expert results while saving your business time and money.
What's Next?