According to a report from Mordor Intelligence, the audiovisual (AV) systems marketplace is witnessing increased demand driven by factors such as rapid advancements in audio and display technology, the adoption of cloud solutions, and the growing emergence of the Internet of things (IoT) and smart buildings. The AV systems market was valued at USD 242.2 billion in 2021, and it is expected to grow at a CAGR of 5.1% during 2022-2027.
While this bodes well for businesses involved in providing AV engineering assistance to clients, the challenges associated with the demand cannot be ignored either. Some of these include:
A higher need for large capital investments, given how AV components are typically expensive. (In the case of Original Equipment Manufacturer (OEM) devices, this expense might increase.)
Lack of skilled professionals who can optimize these devices to create the expected AV experience.
Short replacement cycles require an increase in spending.
For businesses looking to optimize market opportunities, overcoming these challenges is often the first step. Here are four ways in which effective, high-quality AV engineering assistance can help your AV business improve profitability in multiple ways:
| | | |
| --- | --- | --- |
| 1 | Better Planning of AV projects | With professional AV engineering assistance taking care of the actual work, your in-house resources can focus on client-facing communication and collaboration to ensure deliverables are perfectly aligned with your business's needs. |
| 2 | Track Deliverables Better with Superior Documentation | Ensure critical AV documentation, such as the scope of work and bill of materials, are in order. Post-sales AV engineering assistance can ensure this documentation for projects that are completed by your business. |
| 3 | Ensure Fewer Errors; Get High-caliber Results | Outsourced assistance is delivered by trained professionals. This allows them to create and deliver AV output that is highly accurate and can be relied upon safely. Conceptual sketches, cable calculations, and drawings are all examples of AV solutions that, when offered by experts, are reliable because they are free of errors. |
| 4 | Outsource High-volume Tasks | AV tasks often include high-volume tasks that are time-consuming. Outsourcing these or leveraging professional AV engineering assistance can help in-house resources focus on client-focusing responsibilities. |
| 5 | Add Value to Deliverables | Given the breadth of professional AV engineering assistance services, your AV business can rely on high-quality, value-added AV solutions. In turn, your business can ensure clients get AV experiences that are aligned with their own customer expectations and planning. |
| 6 | Save on Costs | Outsourced AV engineering assistance can save your business money on training in-house resources. You gain trained professional expertise that is also informed on the latest trends and industry insights. All of this help ensure value-added deliverables. |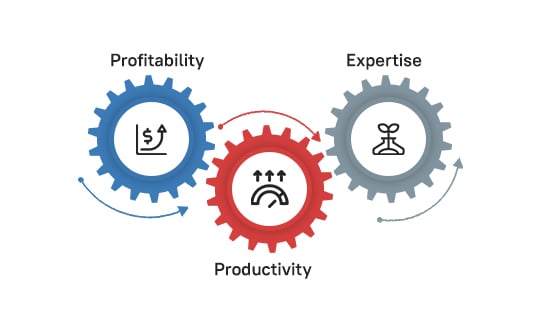 Here's why you should choose a trusted outsourcing partner.
As an AV business, a trusted outsourcing partner can help your business share the workload, share your passion for running the business, and help create new revenue streams. This can be achieved more effectively when your existing work is accurate, reliable, and trusted by your clients.
A trusted outsourcing partner not only delivers AV solutions that are effective, but they also help ensure the Resulting AV solutions are aligned with customer needs. The robust and reliable assistance that comes from trained AV experts can help your business improve scalability and take on more work that leads to higher profit margins.
Next Steps: