In the beginning of the COVID-19 pandemic, businesses that were equipped with some amount of digital capability managed to more easily adapt to remote working. A McKinsey report said that levels of remote working skyrocketed during lockdowns and were expected to remain higher than the levels seen before the crisis. The AV industry saw the demand for digital signage rise during this period. An Avixa impact study conducted in May 2020 reported that some respondents reported no impact, while a healthy percentage of those respondents reported a resumption of some project work. According to a report in Business Wire quoting market research, the professional AV market is set to grow by $106.72 billion between 2020 and 2024. Growth is progressing at a compound annual (CAGR) of 11% during this period.
As global businesses reopen, how do AV startups and small businesses expect to manage current and projected future demands? A recent Avixa article draws attention to the opinion that AV industry professionals and companies need to adapt and transform to succeed in a world that is adjusting priorities at a rate never experienced before.
Meeting these dynamic needs can be challenging for businesses hit hard by financial difficulties and huge furloughs and layoffs. AV partnerships are one way in which small AV businesses and startups can circumvent these challenges. AV businesses can utilize partner resources to build on existing capabilities, either augmenting resources or choosing comprehensive services. Most importantly, AV businesses can access this support without overwhelming their budget.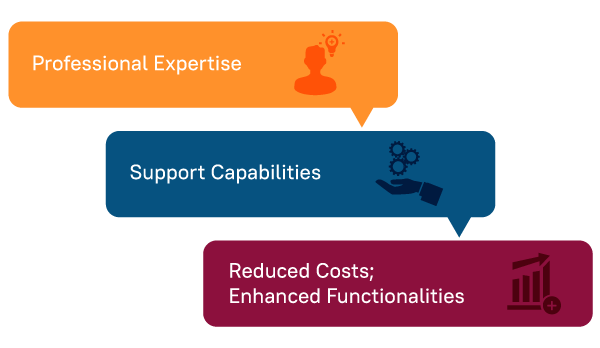 1. Strengthen operations
Business operations may be weakened by outdated infrastructure and the inability to meet client demands. Even if the business has a strong infrastructure, it is essential to have skilled and trained people who possess relevant experience and understanding to execute solutions.
AV partnerships come with ready infrastructure that enables businesses to enhance their operations without up-front investments. With financial conditions already impacted negatively, small businesses and startups may lose momentum. Working with a partner can help ensure the resources are in place and no effort, including momentum, is wasted.
The partner comes equipped with proven hardware and software expertise, trained and experienced staff, and infrastructure that support both. For AV integrators and consulting businesses, including startups, this allows the business to remain productive without wasting time and effort or making capital investments.
2. Support customers better
In a COVID-19 landscape, customers are adapting. They expect AV businesses to provide them with adaptable solutions. An AV partnership provides AV businesses with the infrastructure and staff; more importantly, it empowers businesses to support their own customers more reliably.
The capabilities provided by an AV partnership, allow an extension of services to meet customer requirements, customized as required. A partnership also translates into better quality work, adherence to deadlines, and enforcement of regulatory requirements where needed. These elements result in higher quality output, thus allowing businesses to meet customer needs with the level of quality and timeliness that is expected.
Next Steps: